2nd Paderanga-Varela Memorial Lecture
The National Land Use Act that has been pending in Congress for more than 20 years has been identified as one of the priority measures of the present administration. The need for a law is highlighted in the midst of competing and conflicting uses that affects the allocation, utilization, management and development of the country's land resources.
For the 2nd Paderanga-Varela Memorial Lecture, Dr. Arturo Corpuz, an urban planner, presented his insights on the need to clearly understand what a national land use policy is and its relation to the proposed legislation.
The Lecture was held on October 25, 2017 at Quirino-Garcia Room, The Ascott Makati, Makati City.
Lecture Materials can be accessed here:
– Lecture Program
– Speaker: Dr. Arturo Corpuz's presentation
– Discussant: NEDA – Asec. Mercedita Sombilla's speech
– Discussant: PIEP – EnP Elmer Mercado's presentation
– Discussant: SHDA – Arch. Jose de Guzman's speech
– Discussant: OSHDP – Atty. Christopher Ryan Tan's speech
– Event photos
– Full video
Video highlights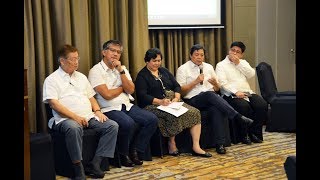 The Foundation would like to acknowledge the generous support of the following organizations for the successful conduct of the lecture:
MAJOR SPONSORS
MINOR SPONSORS
DONORS